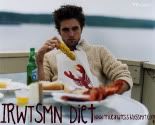 OK, so it is time for me to get back on the bandwagon. And what better reason then to link up with Trixie and Tess for IRWTSMN.
This week they ask what my method is. And I will reveal that my method is Weight Watchers. I joined in March after Noah was born, so that would be March 09. And became a lifetime member, which means I met my goal weight, in Nov of 09. So far so good, until 2 weeks ago, I wasn't having any problems keeping with my diet. And then all of a sudden(I blame football season), I cannot stick to my points. You would think watching Tom Brady every week would be reason enough to stay skinny. But I guess not. Maybe it's his awful haircut. I know, I know, we should lose weight for ourselves, for our health. But who are we kidding, we lose it for the men(and women) in our lives. I lost mine for the littlest men in mine.
Today is the day, I will stick to my points. I must make it one year without having to pay because I'm over.