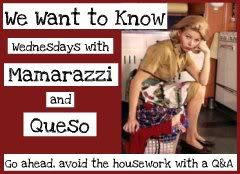 Holidays already.
Link up with Mamarazzi and Queso
1. What is your favorite holiday?
Christmas. I love Christmas morning, opening presents, eating a delicious Christmas morning breakfast(I like to try something new every year). And then heading out to visit family, and having a huge Christmas supper. hmmm...this seems to be revolving around food.
2. Do you have any fun holiday traditions? What are they?
I know we have some, we must, but I can't think of any...maybe we don't have any traditions.
3. When do you start Christmas shopping?
already started. I have two birthdays in December, and a birthday at the end of November, so I need to get started early or else it gets overwhelming.
4. What is your favorite holiday food?
gingerbread cookies.
This recipe
5. Share a favorite childhood holiday memory.
a favorite?....I must of had an amazing childhood, because I can not think of one memory that stands out.
6. Have you ever actually tried fruitcake?
yes, and it is disgusting. My Mom loves it though.